Call For An Appointment: 833-662-0033
---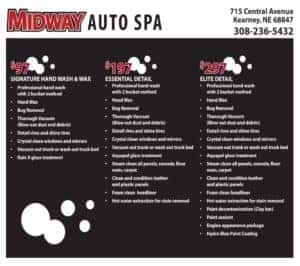 Car Detailing Services Near Grand Island
If your car is in need of some intense TLC, then you're going to be happy with the car detailing services offered at Midway Chrysler Dodge Jeep Ram. We make it easy to make sure your vehicle gets a detailed car wash, as well as a thorough interior car detailing so that your vehicle is incredible both inside and out. But what is car detailing, and what is covered by the car detailing services offered by Midway Chrysler Dodge Jeep Ram? A car detailing is a thorough cleaning of your vehicle's interior and exterior, and not only does that involve basic cleaning, but also the removal of light surface scratches as well as blemishes. This means that your car is going to leave Midway Chrysler Dodge Jeep Ram looking even better than when it was brought in. Find out more about the interior car detailing below from Midway Chrysler Dodge Jeep Ram, and then contact us to schedule some time with our expert team.
Exterior and Interior Car Detailing Supplies
Before we discuss how to detail a car, it's important to get the proper supplies in order. Here are some of the cleaning basics that we highly recommend for your exterior and interior car detailing job:
Vacuum cleaner
Washing mitts
Microfiber cloths
A variety of small brushes (such as a paintbrush)
Canned air
Upholstery cleaner
Carpet stain cleaner
Car-safe cleaner
Window cleaner
Surface protector for vinyl and leather surfaces
Exterior Car Detailing Steps
If you want to make a great impression on Hastings and Lexington roads, a good exterior detailing will make your car shine like new. Find out the basics of how to detail a car exterior below:
Rigorous Exterior Wash: Wash the outside of the vehicle with water, a car-safe washing solution, and microfiber cloths. Make sure your washing solution is made specifically for cars to avoid paint damage, and be sure to frequently change your cleaning cloths. Once completely clean, dry the vehicle off with clean towels.
Clean the Wheels: Wheels are often dirtier than the rest of the car, so wash them separately with the same car cleaning solution. Use a brush to get into the grooves of the tires and rinse thoroughly.
Wax the Exterior: Waxing can protect your paint finish from dirt, debris, and UV damage. After washing and drying your car, wax your car and wipe away the excess product with a microfiber or brush.
Schedule Your Car Detailing At Midway Chrysler Dodge Jeep Ram
These are just some of the many detailing services offered by Midway Chrysler Dodge Jeep Ram when you bring your vehicle in. We make it easy for you to leave with your vehicle looking like new, and with that clean feeling no matter how bad it was when you brought it in. While you're waiting for your car to be serviced, you can browse our new vehicle inventory, so that you can keep an eye out for any models that are waiting for you to take them home when it's time to upgrade, such as our range of new Jeep models.